Interview with Louis Duc: "On the boats with daggerboards, we're going to have a battle royal!"
8/25/22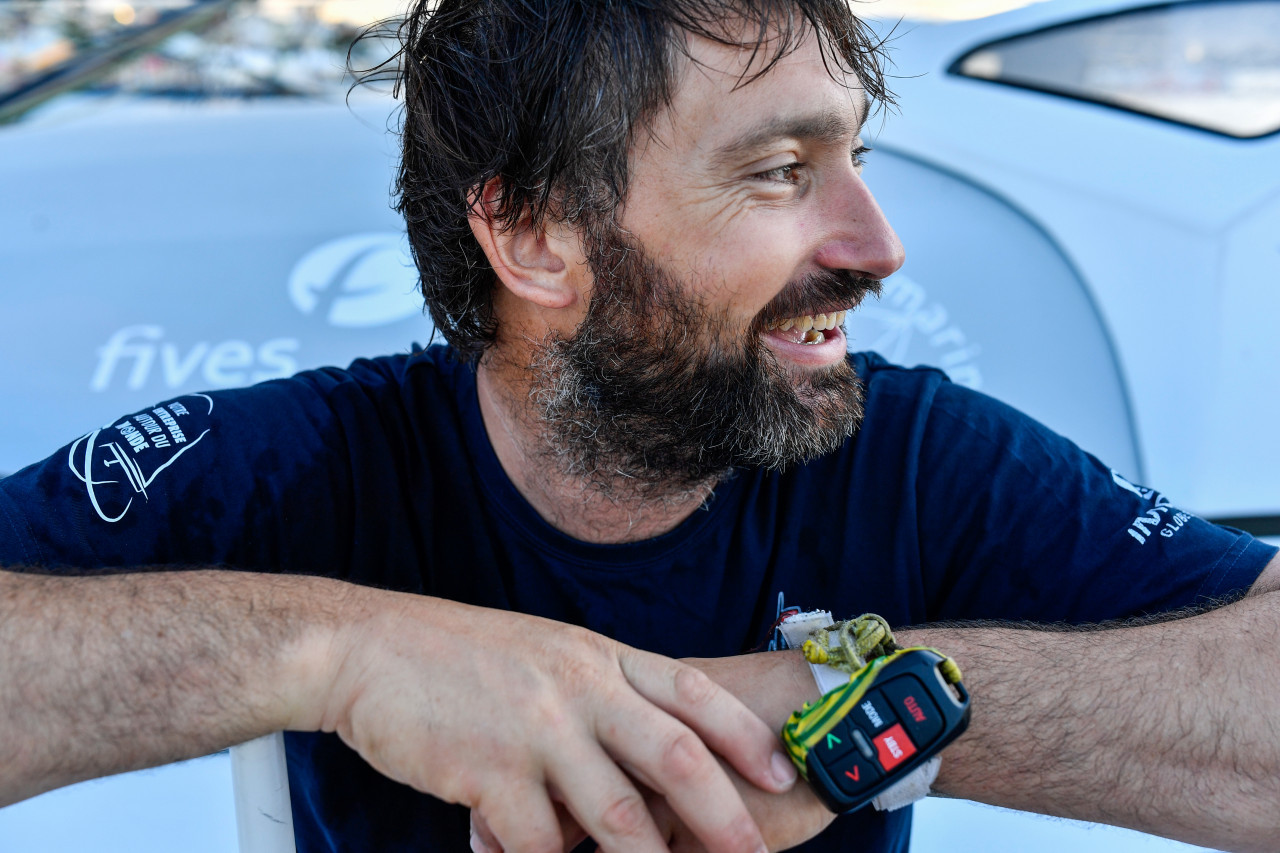 © Jean-Louis Carli
They're among the rookies of the Défi Azimut and they're just starting out in IMOCA. We get the low-down!
Aboard his 2006 Farr design, originally launched for Vincent Riou, Louis Duc is setting sail on the great adventure that is the next Vendée Globe. Now known as Fives-Lantana Environnement, the Norman's Imoca, recovered from the flames shortly before the start of the Transat Jacques Vabre 2019, has undergone a major refit to make her more competitive and more geared towards her skipper. At 38, the skipper known as 'P'tit Louis' is living out a childhood dream and licking his lips at the prospect of some frenzied jousting at the Défi Azimut…
Who are you, Louis Duc?
"I'm a sailor and I've been in and around the maritime universe since the age of 8. I'm a mixture of an offshore racer, a technician and an engineer, trying to put together campaigns with precious little means, but a great deal of motivation! It all began in 2005 in the Mini Transat aboard a wreck which I complete revamped. During the race, the boat dismasted and then I restepped the mast mid-ocean. After that came the OSTAR, Transat Jacques Vabres and Route du Rhums. What I get a kick out of is putting together campaigns, which are not expected to win and making them high-performance. I love enhancing boats, which is the case on my current IMOCA. I'm passionate about the sea, solo sailing, technology, boats and the weather. What I enjoy is having control of a boat and getting her making headway as fast as possible, whatever she is. I like a challenge!"
This will be your Défi Azimut debut. How does that make you feel?
"I've been following the Défi Azimut for a long time and I've always found it to be a great event. It's a sociable affair which you can invite partners to come along to, which is not something we usually have time for at race starts like those at the Transat Jacques Vabre or the Route du Rhum. I love the idea of the runs launched by the Défi Azimut and the varied format. On top of that, returning to port each day enables the general public to really make the most of the competition and see all the Imocas, from the latest foilers through to the oldest boats. The whole big family of 18.28 m monohulls is out in force here!"
Was it a dream of yours to sail an Imoca?
"Yes, because I've known these boats from a very early age. The history of the Imocas thrills me and the way the class has evolved is incredible. Having a dream is a good thing, but it's not enough. You have to kick yourself into gear for it to work out. After years in Class40, I believe Imocas are accessible boats, or the generation of boats with daggerboards like mine at least. They're smoother to sail than the last generation of Class40s I sailed. What's different about Imoca, given that you're not making sail changes every 5 minutes, is that there's a lot of thought involved."
Where are you at with your preparation for the Route du Rhum?
"I'm already pleased to have been able to perform well in June's Vendée Arctique. I'd only done two singlehanded passages prior to that, the boat was just out of refit too, so it wasn't a done deal to get a result like that (8th), especially as I didn't want to damage the boat. I worked really hard on the trajectories for the race and I enjoyed opting for route choices I'd studied at length. In fact, I'd go as far as to say that you can even post great performances on old boats. In the Rhum, the fleet will be great, as there will be around fifteen or so competitors with older generation boats, which have been transformed. On the boats with daggerboards, we're going to have a battle royal and I think we're going to have a lot of fun in each of the races."