PRB wins the round the Ile de Groix
9/13/20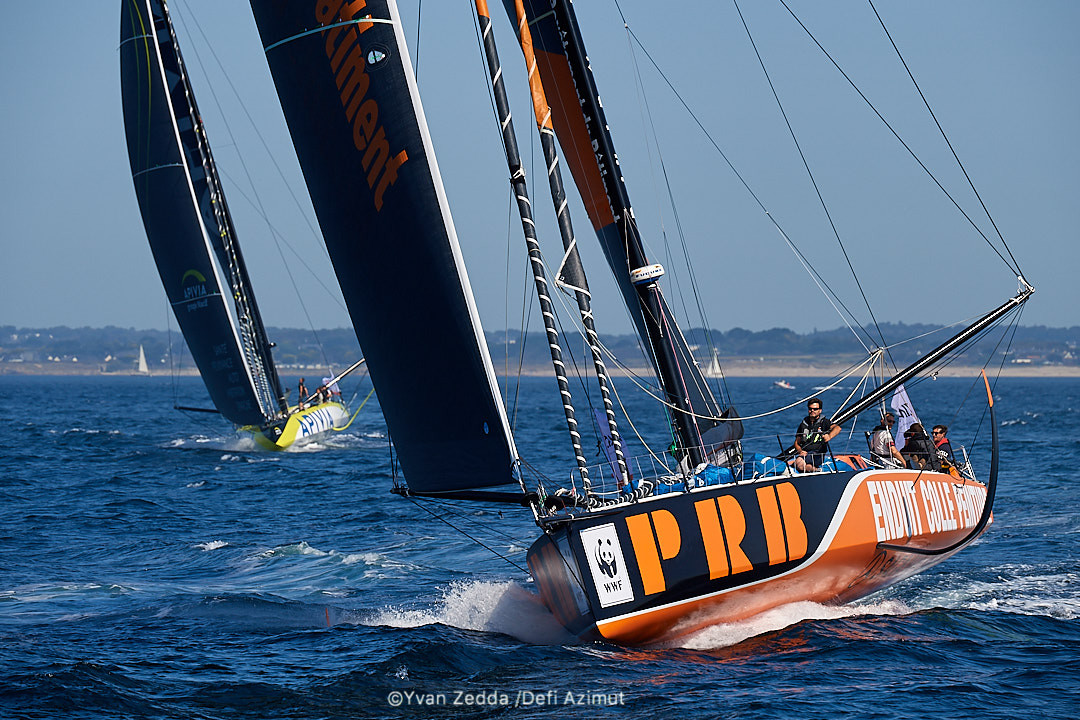 © Yvan Zedda / Défi Azimut
After two and a half hours of racing, Kevin Escoffier finally secured the win in the third and final act of the Défi Azimut. Yet another showstopper, it was also a fantastic battle royal between the different generations of IMOCAs.
Clearly champing at the bit to get his revenge after losing out on a podium place down the home straight in the 48-hour Azimut, Kevin Escoffier held onto the lead pretty much throughout the 17-mile sprint around the Ile de Groix. On a course coloured by a long upwind beat on the outward leg and a run on the way back, points of sail that are less favourable for the latest foilers, he managed to contain both Apivia (Charlie Dalin) and Maxime Sorel (V and B Mayenne), who completed the podium.

Setting sail in 8 to 9 knots of breeze, the 16 IMOCAs (Campagne de France skippered by Briton Miranda Merron did not take the start) quickly headed out to the Pen Men headland where they launched into a long climb along the wild coast. This section of the race saw the fleet split into two opposing groups, with Isabelle Joschke (MACSF) leading the way down the inside track whilst Kevin Escoffier (PRB) and Boris Herrmann (Seaexplorer Yacht Club de Monaco) dominated play offshore. The boats then came back together at the Pointe des Chats and ultimately it was Boris Herrmann who was just a fraction ahead at the Edouard de Cougy mark, the final mark to the East of the island. 

However, on the return leg downwind, PRB quickly snatched back control of the fleet by putting in an earlier gybe than his pursuers as the wind picked slightly. The final sprint for the finish saw Maxime Sorel (V and B Mayenne) come barrelling right back into contention under large spinnaker, just getting the better of Boris Herrmann and Samantha Davies (Initiatives Cœur) on the wire.