To note in the 48H Azimut
9/17/22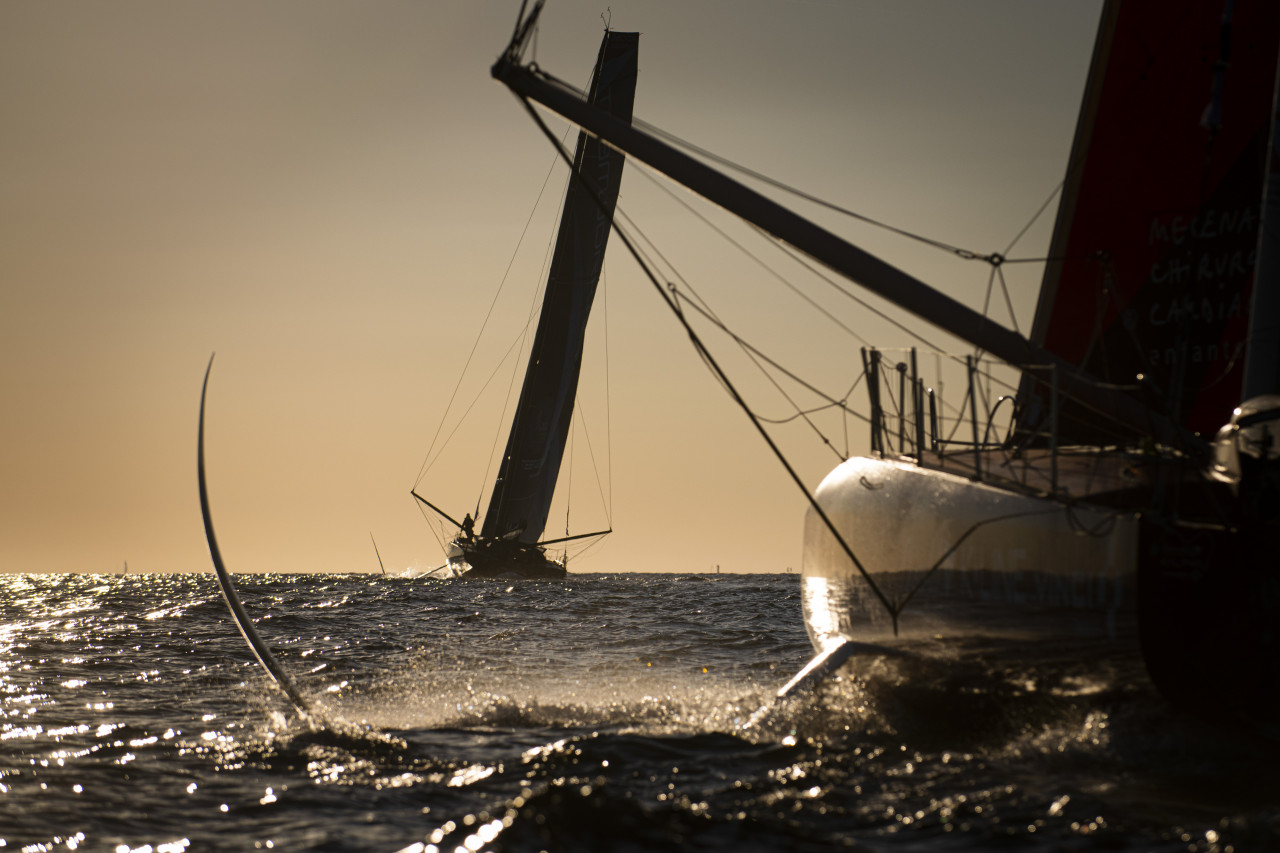 Each the undisputed winners in their category, Charlie Dalin and Charlie Enright certainly made their mark on the 48H Azimut. Just windy enough to be representative, but not too excessive with just six weeks to go until the start of the Route du Rhum, these 500 miles were full of valuable lessons.
Apivia and 11th Hour Racing Team a cut above the rest
One, two… and three! Following on from the Guyader Bermudes 1000 Race and the Vendée Arctique Les Sables d'Olonne, Charlie Dalin once again pretty much led the way from beginning to end. Still untouchable upwind, but faster downwind, the skipper of Apivia is impressive. This morning his rivals were all unanimous in their praise of his performance, including Thomas Ruyant (LinkedOut) and Jérémie Beyou (Charal), who complete the podium. However, it's interesting to note that his wake wasn't quite as smooth as it looks, as the winner explained on setting foot on the dock at daybreak: "I wanted to really set the rhythm and sail as I would in the first 48 hours of a Route du Rhum. I made multiple sail changes and had virtually no sleep." Utterly committed, Charlie almost got too greedy when he reached the waypoint at Azimut 2, ending up carrying too much sail aloft in a breeze that became shifty as the fleet closed on the Cantabrian Mountains. "A gust hit and I did too big a bear away to roll in the J0 (large genoa) and then did a massive broach, with the keel on the other side and the rudder out of the water!" Nothing was broken in the process though, so it's just an 'error' worth mulling over for the longer races…
Three hours later, it was time for more champagne at Lorient La Base, when 11th Hour Racing Team docked in. Winner of the other ranking in this 48H Azimut, Charlie Enright's crew finished even further ahead of their rivals with a lead of over three hours in front of the second boat Guyot environnement-Team Europe (Benjamin Dutreux), which managed to overtake Malizia-Seaexplorer (Boris Herrmann) in the early morning. It was a fine demonstration with less than four months until the start of The Ocean Race, and not all that surprising given the extra level of preparation racked up by 11th Hour Racing Team in relation to their three rivals. Among them, Biotherm unfortunately had to throw in the towel this morning and headed back to their port of registry to repair a broken winch support…
New boats performing well
It was the great unknown in this 12th edition of the Défi Azimut. Would the six new boats manage to keep pace? Though the bracing but mild conditions in this 48H race were ideal for a debut, it's fair to say that the new generation was awesome. Three of the five new IMOCAs sailed in solo format finished in the top 5, Samantha Davies' Initiatives Cœur not far behind (7th).
Third, Jérémie Beyou declared himself to be "happy to have been in on the action without any serious technical glitches," on Charal.  Right at the very beginning of the learning curve, the Manuard design clearly has some oomph, "but she's very demanding to trim" according to her skipper. It's a similar scenario for Maxime Sorel (V and B - Monbana - Mayenne), who was still right in the match and Kevin Escoffier (Holcim - PRB), who made a dazzling comeback.
Finally, on Malizia-Seaexplorer, the atypical design shaped by Boris Herrmann proved that she could cut it with the rest, especially during the first downwind leg where the VPLP design remained in contact with leader 11th Hour Racing Team for a long way.
The rookies on a flier!
For many of the 28 competitors, this 48H Azimut was their first race. For some it was their first time racing an IMOCA too. Such was the case for Tanguy Le Turquais (Lazare), who sailed a fantastic race on his Finot Conq design, first daggerboard boat and 9th overall. Others were sailing solo on their boat for the first time, like Justine Mettraux (TeamWork). Far from an IMOCA novice having raced a full season with 11th Hour Racing Team, the Swiss sailor once again banged the point home that she's a force to be reckoned with thanks to her determination and ability to perform well. She finished sixth on the ex-Charal, overtaking Samantha Davies (Initiatives Cœur) just a few boat lengths from the finish line.
As we go to press, four competitors are still out on the racetrack, ensnared in a dying breeze and on older generation boats.