Interview with Hubert Lemonnier: the skipper whisperer
9/9/22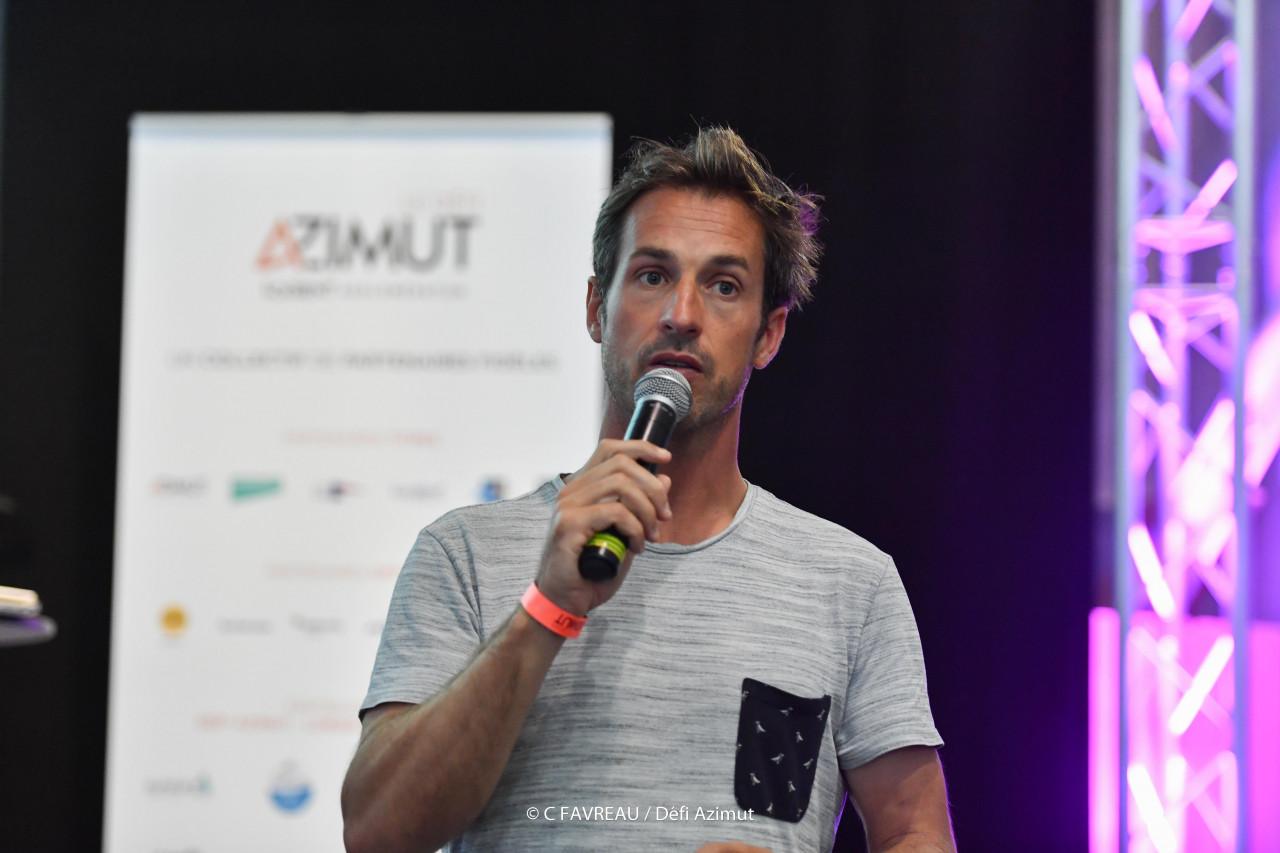 © C Favreau / Défi Azimut
Deputy Race Director to Jacques Caraës for the past two Vendée Globes, Hubert is taking up the role of Race Director in the 12th Défi Azimut, assisted by Yann Eliès.
Deeply humanitarian and a connoisseur of offshore racing, Hubert is a native of La Rochelle with a passion for surfing and the sea in general, and eager to respond to a Q&A session. What better way to get to know this essential land-based guardian angel and understand the challenges of the Défi Azimut – Lorient Agglomération.
What is your background, Hubert?
"I studied oriental languages and then quickly headed out to China to do my degree. I loved it. On my return, I got wind of a Chinese America's Cup team, China Team, a project managed by the French, which was looking for someone who spoke Chinese to establish the connection between the French and the Chinese. As a result, I was part of this Chinese team for the America's Cup, which catapulted me into the competitive sailing world. From there I went to work on the Volvo Ocean Race for Team Eriksson as head of logistics for the Asian stopovers. I'm from La Rochelle and I've always sailed in the area through cruises with my parents. My father worked at the Amel yard. I went to a lot of sailing schools, but I was more into local racing rather than any federations. At 25, I headed out to the open sea and my experience in China was incredibly formative and brimming with opportunity: America's Cup, two Volvo Ocean Races… In this way, I managed to acquire experience in the Anglo-Saxon environment, continuing in that vein by spending time with OC Sports on the Extreme 40 circuit, with an entire year spent in Cowes on the Isle of Wight."
How did you get into Race Management?
"Denis Horeau (Race Director, editor's note), was looking to flesh out his team for the Barcelona World Race 2010 (double-handed round the world, ed's note), then for the Vendée Globe 2012. I wasn't familiar with the Class IMOCA, but these boats appealed to me. I was 30 and I wanted to do it all!
Straightaway, I thought these boats were incredible on a technological level. Added to that, the relationship between the shore and the sea and the human achievement it represents really thrilled me. I didn't even know skippers like Jean Le Cam at the time!
One thing led to another and then I met Jaco (Jacques Caraës, Race Director for the Vendée Globe race among other things, ed's note). We got on very well. We were and still are highly complementary. It was a logical move to continue working together. Jaco was on a roll and I followed suit as soon as I could, whilst completing other projects along the way, like the Sail GP. New York-Vendée, Brest Atlantique… he took me with him as soon as he could! I've gained a fair amount of experience as deputy, so I've worked with skippers, meteorologists, and I've done a lot of offshore sailing, notably with Fabrice Amedeo, Giancarlo Pedote and Benjamin Dutreux. That is continuing today!"
What does the role of Race Director consist of?
"You're a general controller. To be able to control things well, you need a global vision of the parameters that need taking into account: safety, administration, sports, policy, weather and communication. You try to ensure that all topics are dealt with properly and that there aren't any typos. You have to reiterate these plans at every event, because each event has its own identity, so you have to adapt. What I love is the human aspect, creating a direct relationship with the skippers. There are some skippers I've met during races, between land and sea. Then at the finish, we've become friends! That's true for Giancarlo (Pedote), Benj' (Benjamin Dutreux) and Maxime Sorel. However, there are others that you don't create any links with! The idea with an offshore race is not to be intrusive, to just be a maritime ear on land, working in their favour."
What are the main difficulties involved in the Défi Azimut – Lorient Agglomération?
"These revolve around managing 3 very different race formats. My responsibility involves the course starts and finishes, as well as the on-the-water safety. After that, there's the show element, which is fluid, fair and above board. The sponsors love the runs and the round Groix Island, and the skippers want to show that their boat is quick. In fact, you'd think the sailors come along just to kind of have a dabble, but it's not like that at all! You wouldn't think it but it's incredibly important! The 48h is simple, but the difficulty lies in being fair. You have to position the waypoints appropriately, according to the weather, so that everyone's happy. The boats are ready, so things go smoothly generally. We'll try to create a comprehensive course with patterns for everyone. In reality, it will be interesting to monitor the degree of preparation, because the next race is the Route du Rhum-Destination Guadeloupe. The good news, and I'm delighted about it, is that Yann Eliès (triple champion of the Solitaire du Figaro) will be assisting me. He's now positioning himself to do Race Management! It's better for there to be two of us in the Défi Azimut, because there will be 30 boats and it will have to run without a hitch!"