Charlie Dalin "we've found the keys to going even faster"
9/17/22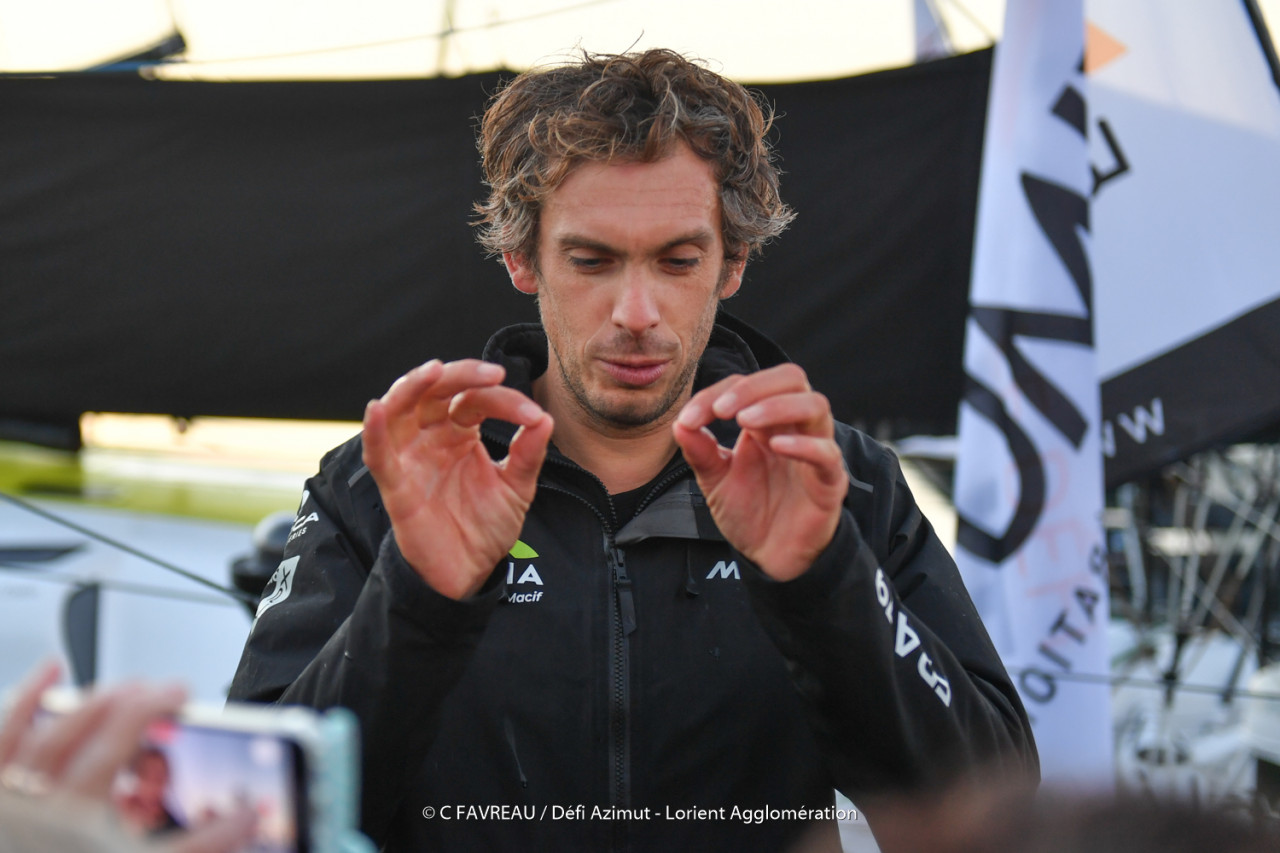 © C Favreau / Défi Azimut - Lorient Agglomération
A bouquet of flowers in his hand and a bottle of champagne in the other, it was a calm yet beaming Charlie Dalin who stepped onto the dock in Lorient La Base this morning. He discusses the lessons learned from this second consecutive victory in the Défi Azimut Lorient Agglomération, the third of the season out of the three races contested…
"This victory has a very good flavour! I'd been really looking forward to this race with the presence of the new boats prior to the arrival of the new APIVIA next year. This 48h Défi Azimut rounded off with a lot of positives. I really enjoyed this course designed by Race Management. Above all though, as everyone was making their final little tweaks, it was a proper dress rehearsal for the Route du Rhum. I'm happy. We've made a 5-7% gain in speed in certain conditions. That's the good news from the Défi Azimut. We've managed to find the keys to going even faster. This is particularly true downwind, where we were kind of on a level pegging before, but here we found solutions for sailing a tad above the rest on that point of sail… I wasn't saving my energy either, with a fair few sail changes, which might not be evident from the cartography, but they enabled me to keep Thomas and Jérémie at bay. It augurs well for the Route du Rhum, because there's a lot of downwind in that transatlantic race.
We had some very quick sections and I was able to really push APIVIA. It was nice, even though I went a bit off-piste at the second mark, but that happens to everyone (laughs). I came up to Azimut 2 in a very shifty and fairly light breeze under J0 (large genoa) and full main. I rounded the mark and then a gust blew up, but it was too late. The wind picked up to 19 knots, upwind, with a sail area that's not really recommended. I did a big ease and a bear away but I went too far! The boat broached right over with the rudder out of the water and the keel on the other side… You'll get the picture from François Dourlen's videos… ! 
On the beat back up, I was in control, but it was important not to neglect positioning. The breeze was fairly uniform across the race zone. There were some slight discrepancies between the forecasts and the reality, so we had to stay focused. On the return leg I managed to get a little bit of rest, but I really gave it the intensity that this race requires. 
So, what's next? There are some training sessions still to do at the Pôle Finistère Course au Large before the start of the Route du Rhum. I still have some progress to make to avoid mistakes like the one at Azimut 2. I'm happy to have had the chance to take part and tweak my preparation so I'm at the top of my game on 6 November."