Peak season for launches at Lorient La Base
8/4/22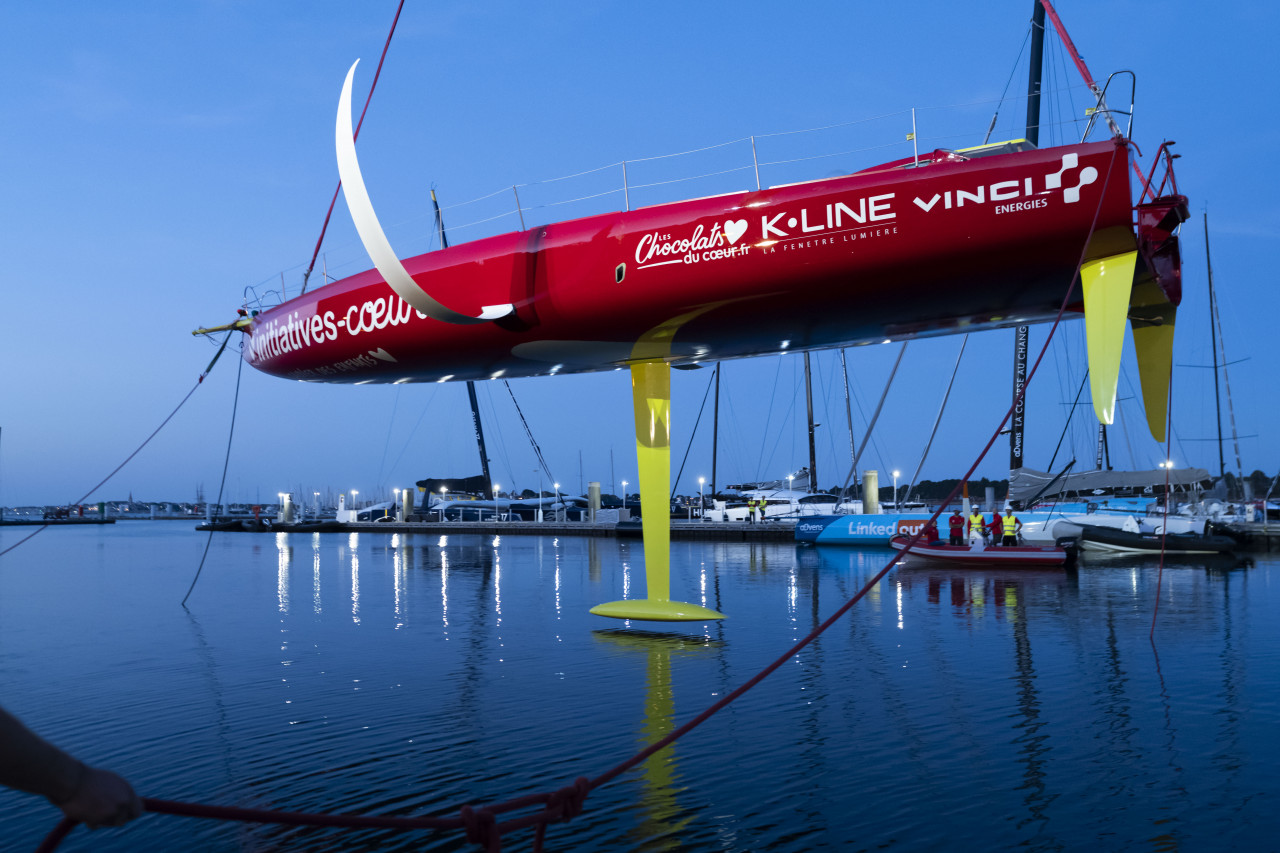 It's a hive of activity at Lorient La Base in Brittany right now where the teams from the IMOCA class with new boats and new skippers are readying themselves for the racetrack!
Following on from the launch of Swiss sailor Justine Mettraux's TeamWork, Jérémie Beyou's old boat, Briton Samantha Davies' brand-new Initiatives Coeur, the first boat designed and built specially for her, has also just hit the liquid element. The latter Manuard design, with her bright red hull, took to the water on Saturday 30 July. For both these female sailors, the clock is ticking loudly as they prepare for the Défi Azimut, the first official meeting at the helm of their new steeds, within the context of what is already set to be a record-breaking 12th edition. 
Indeed, in addition to a tally of nine rookies set to take the Défi Azimut by storm, this 2022 vintage will be a major debut for a great many other skippers. A number of them are already familiar faces at this September meeting, but this time they'll be racing on a new IMOCA, whether it be a latest generation model or an older boat eager for a new lease of life. 
Amidst a family of newborns…
There has been no summer break for the new boats, as evidenced by the great swathe of launches over recent weeks. After Kevin Escoffier's PRB built in the UK, which was the first to hit the water in May, V and B-Monbana Mayenne (Maxime Sorel), Charal 2 (Jérémie Beyou), Malizia-Seaexplorer (Boris Herrmann) and Initiatives Cœur (Samantha Davies) have been extracted one by one from the yard and released into the water. These newborns – designed by Guillaume Verdier, VPLP, and Sam Manuard -, all cut quite a dash with their very rounded bows, which epitomise this new generation of 'foilers', created in such a way that there is less slamming through the waves, resulting in enhanced stability in flight and increased average speed. Over the coming days, we can also expect to witness the launch of Maître Coq (Yannick Bestaven) and Biotherm (Paul Meilhat), they too set to flesh out the ranks of this exceptional 2022 vintage in the IMOCA series. 
On top of these newbies, there are a host of older boats which have recently changed hands. Their durability is an illustration of the vitality of the class, which is welcoming a number of new faces. Already a circuit regular, Swiss sailor Justine Mettraux, a member of 11th Hour Racing Team with whom she will take the start of The Ocean Race in January 2023, is taking on a fresh challenge at the helm of her own project. With backing from her historical partner TeamWork, which has been accompanying her since she made her Mini 6.50 debut ten years ago, today she is taking control of Jérémie Beyou's old boat (VPLP design from 2019), with a view to competing in the Route Rhum-Destination Guadeloupe and the next Vendée Globe. With this in mind, she'll be setting sail singlehanded aboard her own boat, one of the more modern of the older generation steeds, to take on the 48 heures du Défi Azimut race.  
21 foilers out of a line-up of 31 boats
Alongside her, four other skippers, most of them rookies to the Lorient meeting, will also be competing with a boat they have recently acquired. They'll be intent on using the race as a platform for gradually ramping up their lengthy campaigns, which will carry them all the way through to the start of the Vendée Globe 2024. For Nicolas Rouger (Demain, c'est loin), the young Briton James Harayda (Gentoo Sailing), Alex Thomson's former boat captain Ollie Heer (Ollie Heer Ocean Racing), Tanguy Le Turquais (Lazare) and also New Zealander Conrad Colman (Imagine), who is making his return to the circuit, this Défi Azimut – the first start line in a long series of events that make up this dynamic circuit, is bound to feel like their competition debut. It's worth noting that for this 12th edition, we're expecting 21 'foilers' and 10 boats with classic daggerboards, so we can expect a battle royal at every stage of the fleet…