THE DÉFI AZIMUT, WARMING UP FOR A LEGEND
9/13/22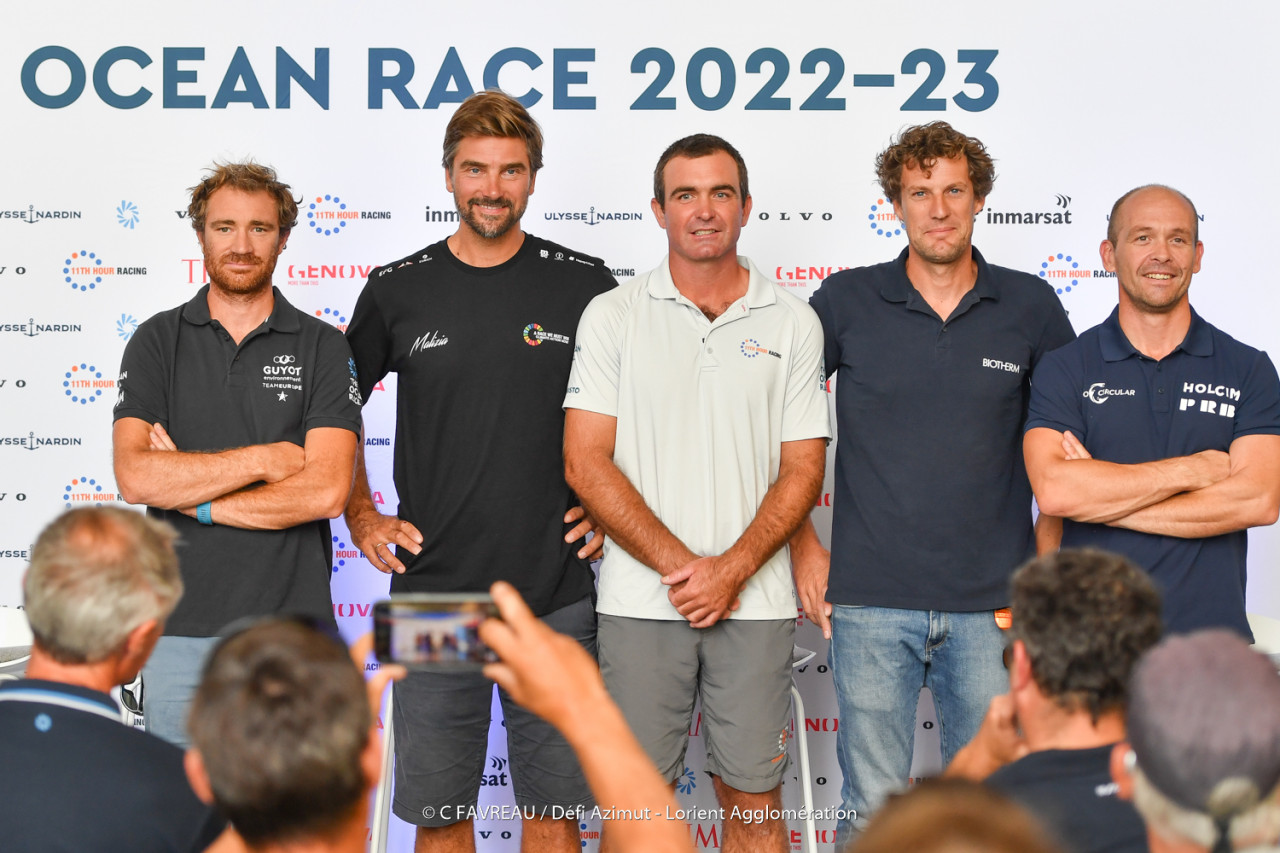 This year, four IMOCAs will compete in the Défi Azimut Lorient Agglomération in crewed format.
Skippers Benjamin Dutreux (Guyot Environnement –Team Europe ), Boris Herrmann (Malizia Sea Explorer), Charlie Enright (11th Hour Racing), Paul Meilhat (Biotherm) and Kevin Escoffier (Holcim PRB) posed in that order this afternoon at Lorient La Base for a family photo. Though "one to three more projects could be announced by the end of the year," according to the Swedish organiser Johan Salén, who made a special trip to Lorient for the presentation, the five teams gathered together at the Défi Azimut make up the whole of the official line-up for this crewed round the world race contested for the first time in its history aboard IMOCAs (four sailors and one on-board reporter)
Just like Antoine Mermod, Johan Salén was keen to point out that this fleet of five boats gathered in Lorient was the first victory after an "event organisation complicated by two years of pandemic." It's an event that 11th Hour Racing believed in from the start and the team is by far the most prepared since she was launched here in Lorient a year ago.
Though Guyot Environnement is none other than the ex 11th Hour Racing TEAM (and ex Hugo Boss) and has been out on the water since 2016, Benjamin Dutreux (who won The Ocean Race Europe in 2021 on another IMOCA) is still finding his feet sailing in crewed configuration on this IMOCA. As for Malizia Sea Explorer, Biotherm and Holcim PRB, they've only been launched in recent months (recent weeks even for the first two!) As a result, it's now a genuine race against the clock to be competitive at the race start in Alicante. Solely Kevin Escoffier has chosen to contest the Défi Azimut singlehanded "to better prepare for the Route du Rhum", his rivals viewing this Lorient meet as the perfect training ground to hone their automatic reflexes in crewed format for the first time.